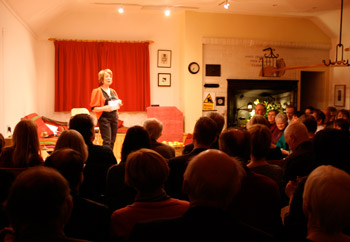 The Bakehouse is a performance space dedicated to poetry and the spoken word. It aims to promote interest and skills related to writing in Dumfries and Galloway through
events that give local writers an opportunity to hear high quality work;
opportunities to read their own work;
workshops that provide an opportunity to share new work and obtain feedback from group leaders and other writers.
The Bakehouse is accommodated in a double-fronted Georgian house in Gatehouse of Fleet, a conservation town in the Fleet Valley, south west Scotland. The town did not exist before 1760. The 'gait house' - a roadhouse near the river crossing – was the only building but by 1793 it was a thriving Mill Town with 160 houses and 1150 inhabitants. At this time The Bakehouse was built on the High Street as a bakery, shop and home.
About a hundred years later in the 1870s a big bakery and oven was built on the back. The building continued to be used as the town bakery until the 1970s. The oven front, which was installed by James Cruikshank Ltd., oven builders of Edinburgh, is still there as is the original eighteenth century fireplace in the lobby.

Chrys Salt and Richard Macfarlane bought the Bakehouse at 42/44 High Street, Gatehouse of Fleet in 2001 since when they have developed the old shop into a Studio for exhibitions and workshops, and the nineteenth century Bakehouse itself into a performance space for larger events including book launches, poetry readings and small scale theatre. The Bakehouse can accommodate audiences of up to 50.
The Bakehouse is currently registering as a Company Ltd, by Guarantee without share capital (i.e. no profit distribution) with a membership of individuals committed to the arts, and a voluntary management committee. The constitution includes the following aims:
To advance the education of the public in all aspects of the arts and crafts and to facilitate the advancement of skills therein, and to further benefit the community through the relief of poverty and the development of local economies by supporting the development of business and social skills and opportunities through the arts and crafts.
The Team
Artistic Director: Chrys Salt
Financial Director: Richard Macfarlane
Website: Ken Smyth