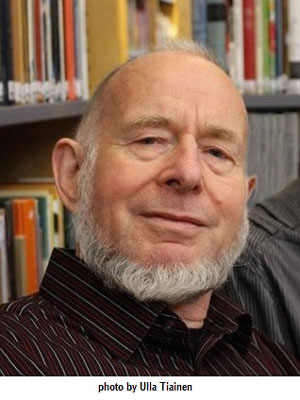 as part of the One Head, Two Tongues series
Donald Adamson Launches his latest collection
Saturday August 22nd 2015
Donald Adamson launches his new collection Glamourie (IDP 2015) – a fine collection from a poet at the height of his powers. Galloway people and places are prominent in the poems, which celebrate diversity. They embrace the 'glamourie' – enchantment – to be found in ordinary lives and in poetry. His poems are so firmly rooted in The Scottish landscape they appear almost self-seeded. The collection ends with wild bagpipe-led devilry, reminiscent of Robert Burns's Tam o'Shanter, and an urgent plea for tolerance.


'(Glamourie)... explores our several histories and voices with confidence and panache… a poet who, having spent many years away from Scotland, sees its strengths and weaknesses with a clear but affectionate eye'. Christine de Luca (Edinburgh Laureate)

And then there's always the Fickle Tupperware bowl of FATE
Bring a poem, an instrument, a song to entertain – anything to inspire, excite or amuse.