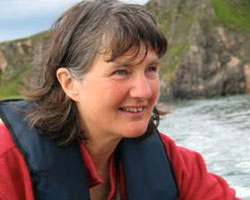 THE BAKEHOUSE CELEBRATES BOOK WEEK SCOTLAND
Appeared: Tuesday November 26th 2013

Giving voice to the silent: writing a Stone Age novel

Author of Historical Fiction, Margaret Elphinstone, is at the forefront of Scottish Women Writers. We are delighted to welcome her to The Bakehouse to celebrate BOOK WEEK SCOTLAND.

Margaret will focus on her most recent novel The Gathering Night, describing how she researched a prehistoric novel, recreated the world of our hunter-gatherer forbears and set about giving them a voice.

"This beguiling historical novel imagines the inner and emotional lives of Mesolithic-era humans …… Elphinstone's formidable depiction of nature is the greatest strength of this atmospheric novel."
Anita Sethi, Independent on Sunday

Set among the hunter-gatherers of Mesolithic Scotland, The Gathering Night is a story of conflict, loss, love, adventure and devastating natural disaster. This pre-historical novel is set deep in our stone-age past, but resonates as a parable for our troubled planet 8000 years on.

COME AND COLLECT 'TREASURES' - YOUR FREE BOOK FROM THE BAKEHOUSE
Treasures is a free book for all of Scotland to share, celebrating the nation's most loved possessions. Treasures collects together stories and poems from the Scottish public with pieces from some of Scotland's best-loved personalities. Available on the night.