Burns Night at the Bakehouse
Saturday January 22nd 2011

Bashabi Fraser
BASHABI FRASER was born in West Bengal in India. Her books include Just One Diwali Night, Tartan & Turban, Topsy Turvy & A Meeting of Two Minds, Geddes Tagore Letters and From The Ganges to The Tay.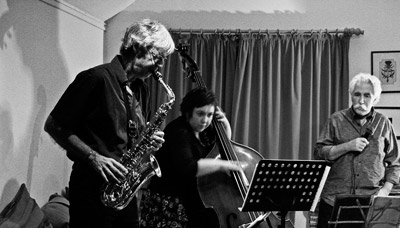 October 30th 2010
A GAELFORCE EVENT
Brian Johnstone in performance with Trio Verso
An evening of poetry and jazz with improvisation group Trio Verso - poet Brian Johnstone, (co-founder and former Director of the StAnza Poetry Festival) and musicians Richard Ingham (saxes, bass clarinet, low whistle, trombophone) & Louise Major (double bass).